S4 2012
Workshop Series - Professional Grooming & Image Workshop with Make Up For Ever Academy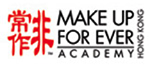 This workshop is co-organized by Hong Kong Federation of Business Students (HKFBS) and Make Up For Ever Academy. It offers you an opportunity to learn the skills of make-up and image-building required in different business formal occasions.
Make Up For Ever Academy is acknowledged as the first international professional make up and hair styling academy in Hong Kong with the instructors of high academic qualifications and professional artistic background. It has been organizing a variety of makeup workshops and grooming courses for years.
Details of the Workshop:
Date:
October 11, 2012 (Thursday)
Time:
14:00 - 16:00
Venue:
3/F, Wellable Commercial Building, 513 Hennessy Road, Causeway Bay
Fee:
Free
Quota:
30
Content:
Knowledge and Application on Foundation
Eyebrow Design and Matching with Facial Shape
Contour Correction and 3D Contouring
Make Up Professionalism and Technique
Participants can enjoy 30% off discount for any purchase of MAKE UP FOR EVER products on that day.
Deadline for application: October 5, 2012