S4 2012
Firm Visit Series - The Prudential Assurance Company Ltd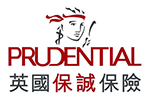 HKFBS is proud to present Stepping Stone to Success Scheme 2012 Firm Visits, co-organized by Hong Kong Federation of Business Students (HKFBS) and The Prudential Assurance Company Ltd.
Firm Visits offer you an opportunity to gain insights into the real business environment, develop fundamental business knowledge and be well-prepared for your future career.
The Prudential Assurance Company Ltd established in London in 1848, Prudential plc (UK) began life as The Prudential Mutual Assurance, Investment and Loan Association, is a top-notch life insurance company serving over 26 million customers worldwide. They offer life insurance, general insurance, group insurance protection, mandatory provident fund solutions, pensions, mutual funds, banking and investment management.
You may also visit http://www.prudential.com.hk for further details.
Details of Firm Visit to The Prudential Assurance Company Ltd:
| | |
| --- | --- |
| Date: | October 16, 2012 (Tuesday) |
| Time: | 16:00 - 18:00 |
| Venue: | Exchange Square I, The Prudential Assurance Company Ltd Head Office |
| Quota: | 30 |