S4 2013 Executive Roundtable for Elites
Mentorship Programme 2013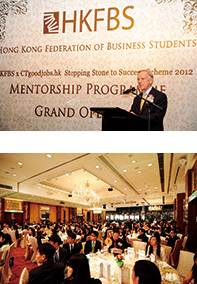 Mentor-mentee relationship is a life-long journey.
The theme of Mentorship Programme 2013 is 'Constellation'. Denoted as a meaningful stellar pattern formed by cluster of stars, Constellation symbolises our aspiration, which is to inspire participants through aligning successful leaders, business professionals and students from 9 local universities together. Mentorship Programme 2013 consists of two components, namely Grand Opening and Social Gatherings. We aim at enhancing participants' exposure, broadening their perspective and preparing them to tackle the challenge in the future.
Over 100 business elites are invited from diverse fields to be our mentors, including Accounting, Banking and Finance, Consultancy, Government and Legal, Hotel, Human Resources, Information Technology, Insurance, Management, Marketing and Public Relations.
This year we are honoured to have representatives from the following organizations to be our mentors:
Bank of America Merrill Lynch
Bank of China International Limited
Bank of New York Mellon
Credit Suisse
Crown Worldwide Holdings Limited
Deutsche Bank
Ernst & Young
Hong Kong Institute of Bankers
Hong Kong Monetary Authority
HSBC
Legislative Council
New World Development Company Limited
PricewaterhouseCoopers
Procter & Gamble Ltd
...and many more

"University is more than just knowledge learning and never underestimate each and every opportunity that comes across your life."
Mr. Bernard Chan, GBS, JP
President, Asia Financial Group

"The Mentorship Programme enables students to broaden their horizon by meeting and learning from successful people in public life and from the business sector. Do take advantage of this opportunity which will bring you into contact with people and things not available in the university."
Hon Emily LAU Wai-hing, JP
Member of the Legislative Council of Hong Kong

"The S4 Mentorship Programme 2013 offers not only an invaluable opportunity for student leaders to sharpen their soft skills and learn from elites from an array of fields but also a gateway to the real business world, which is the asset you can never discover in books. Do cherish this chance to develop a better understanding of positions you are going to take in society in later years."
Mr. Alan Leong Kah-kit, SC
Barrister-at-law
Details of the Mentorship Programme 2013
Mentorship Programme 2013 consists of two components, namely Grand Opening and Social Gatherings. Social gatherings, initiated by our Executive Committee members, will be launched regularly starting from November.
Grand Opening
Date:
October 22, 2013 (Tuesday)
Time:
19:15 - 22:30 (Cocktails will be served from 18:45)
Venue:
Royal Plaza Hotel Grand Ballroom I - III, Level 6,
193 Prince Edward Road West, Kowloon, Hong Kong
You will be able to meet your mentors in the buffet dinner. Also, you can mingle with other business elites from different companies. Seize this chance and join our Programme!
Deadline for application: October 8, 2013