S4 2011
Mentorship Programme 2011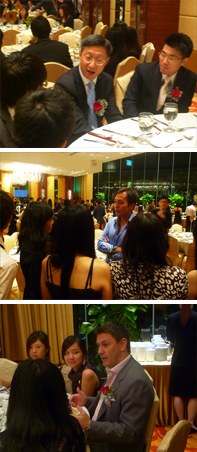 Mentorship Programme provides a platform for our members to connect and learn from business professionals from different fields. Mentees can benefit from their mentors through various forms of gatherings, visits and get hands-on experience of the business world.
Over 70 business elites have been invited from diverse industries to be our mentors, including finance, accounting, banking, sales and retailing, hotel, government, marketing, insurance, legislation, media, consulting, information technology and etc.
Our mentors include: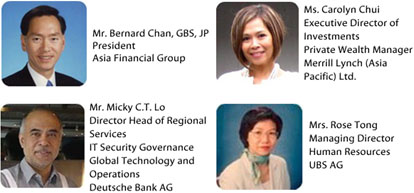 and many more...
The Programme is not just about the dinner. It aims at a long-lasting mentor-mentee relationship, which makes HKFBS's Mentorship Programme a unique chance for you. All of our Executive Committee members will act as coordinators to facilitate your further gatherings to make sure you make the best out of it.
It costs only HK$ 280 to enjoy the lifetime guidance from mentors and friendship among the group, and the dinner buffet at Opening Ceremony. What else can possibly hinder you from applying now?
Deadline for application: October 4, 2011
Details of the Opening Ceremony of Mentorship Programme 2011:
The Ceremony will be in a form of dinner buffet, which will start at 7:30 p.m. with cocktail session half an hour in prior.